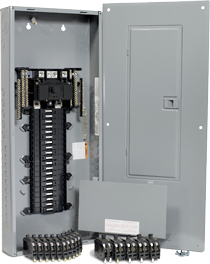 Are you having electrical problems but you cannot find the trouble? Is your property over twenty-five years old? You could probably rejuvenate your electrical installations. But to make a replacement, a connection or the installation of an electrical panel, you must use the services of a master electrician. Working with electricity could be dangerous: did you know that in case of damages, you could have bad news. In addition, an electric shock can be fatal and the malfunction of an electrical component can cause a fire. Generally, the installation of an electrical panel is done on a new construction or when replacing a panel that does not conform to current standards. Consequently, reserving the services of a qualified specialist to make the replacement, connection or installation of electrical panel is your best decision.
Are you looking for an electrician to replace, connect or install a reliable and safe electrical panel?

Hydro Quebec's network transports electricity to your property through two live wires and one neutral wire. These are connected to the distribution board via the main circuit breaker and then redistributed on the various secondary switches to the electrical circuits of your home. It is important to know that the electrical panel ensures the safety of all circuits in your home.
There are two types of electrical panels: fuses and circuit breakers.

The fuse was very popular until the early 1970s, but it is now in the process of disappearing. Now, many insurance companies are demanding that the latter be replaced by a circuit breaker panel. We must remember that the electrical panel is the heart of your home.
Sylvain Gobeil Électricien inc.'s Team, specialized in replacement, connecting and installation of electrical panel is available to respond quickly and efficiently to your requests!

If you use the services of Sylvain Gobeil Électricien inc., we will make the replacement, the connection or the installation of your electrical panel so that you will have the maximum efficiency and safety after upgrading your electrical installation. For a new building or an existing electrical panel modification, our team of electricians has the training, skills and licenses to perform their work properly. We pay special attention to the quality of our work. We are proud that our customers refer us to their friends or acquaintances when it comes to choosing a contractor.
Free estimate when you call for our service of replacement, connection and installation of electrical panel.

We mainly present our services in the Sherbrooke area (Magog, Granby, Lennoxville, Waterloo, Bromont, Orford, Windsor, Drummondville, East Angus, Asbestos, Thetford Mines, etc.) and its surroundings. However, depending on the type of services desired, some contracts could be executed outside that territory. We are members of the Régie du Bâtiment du Québec (R.B.Q: 8277-0397-51) and we hold a license from the Corporation des maîtres électriciens du Québec (C.M.E.Q) along with $ 5,000,000 in liability insurance, demonstrating our professional qualification to offer a work worthy of your confidence.
For a job well done and safe, contact us now to do your work in electricity. You can contact our team of specialists today to get a free quote on your project to change, connect and install an electrical panel!